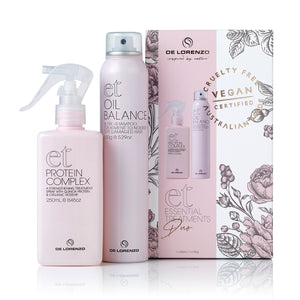 Essential Treatments Duo
$39.95
Regular price
$64.80
This Essential Treatments Duo pack is designed to address the Four Natural Balances of hair - protein, moisture, natural oils and PH balance. With this treatment duo pack, dry and porous hair is brought back to life!
150g
Oil Balance mimics your scalp's natural hair oils, nourishing dry ends with organic Rosehip and Linseed Oil. Before shampooing, spray Oil Balance onto the mid-lengths and ends of your hair, then brush through to distribute the luscious oils through your hair. Leave in for 20-30 minutes before washing out with your prescribed De Lorenzo shampoo then towel drying in preparation for Protein Complex.
250mL
Protein Complex is a protein rich strengthening treatment, perfect for dry, split ends. After following the above steps, spray Protein Complex through your hair and leave for 5 minutes, then without rinsing Protein, apply your prescribed De Lorenzo conditioner* over the top. Leave for 10-20 minutes then rinse thoroughly and style as normal.
*For an added treatment you can use the Essential Treatments Equilibrium hair masque over the top to seal in the protein whilst adding extra moisture, sold separately.