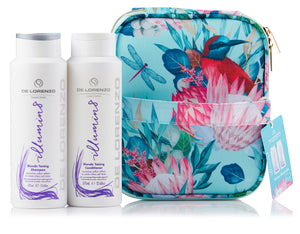 375mL Illumin8 Blonde Toning Shampoo
375mL Illumin8 Blonde Toning Conditioner
Certified RPET Fabric Tote Bag
This eco friendly De Lorenzo Haircare pack comes in a fabric tote bag made from recycled plastic bottles, one of the world's most commonly disposed of plastics. 
The Illumin8 range creates silver ash tones on blonde hair, keeping your hair fresh and bright like you've just been in the salon! The shampoo helps to gently cleanse the hair, whilst simultaneously delivering blue-violet pigment to the hair shaft to create silvery, ash tones. It is recommended to wear gloves as temporary staining of hands can occur due to the strong deposit of colour.

The Illumin8 Blonde Toning Conditioner further aids the shampoo in toning brassiness, whilst moisturising and nourishing, leaving the hair feeling soft and glossy.