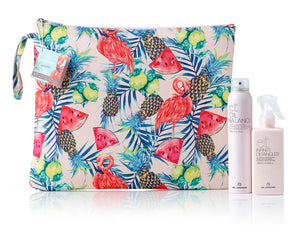 Essential Treatment Swim Kit
This is your most important Summer 2020 companion - the Essential Treatment Swim Kit by De Lorenzo Haircare. The included treatments will protect your hair from the drying effects of the sun, sea and chlorine, preventing colour fading and even the green tinge hair can get from chlorine. It comes with a stunning waterproof swim bag, made from recycled plastic bottles.

250mL
Oil Balance acts as a natural barrier between your hair and water when swimming. Put into dry hair BEFORE swimming to prevent the effects of salt water or chlorine, while also improving manageability and adding shine to the hair.

250mL
Infinite Detangler is a leave-in detangling and conditioning spray, also protecting your hair from the effects of UV damage. With organic rosehip and wheat protein in the formula, these ingredients act to soften and smooth the hair cuticle to eliminate tangled and knotty post-swimming tresses.


Complete with an adorable, waterproof fruity flamingo patterned swimming bag for all of your beach adventures.